(Safe) Fun in the Summer Sun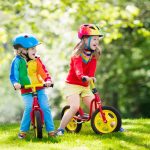 Keep your kids safe while enjoying the summer sun with these essential tips from experts.
As the summer months roll in, parents must take extra precautions to ensure their children's safety while they play and have fun outdoors.
Here's how to keep your kids safe around water this summer:
Ensure that there is a designated adult watching children playing in the water, whether at pool parties or out at the lake.
Always wear a life jacket when participating in water sports.
Ensure that children only ride in age-appropriate vehicles and teach them to follow all safety instructions.
Here are some tips to prevent head injuries during wheeled sports:
Always wear a helmet when riding a scooter, skating, skateboarding, or biking.
Make sure the helmet fits snugly, and the chin strap is securely fastened.
Dehydration is also a concern during summer activities, particularly during sports. Drinking enough fluids during the summer is essential. Encourage your kids to drink plenty of water before, during, and after play, and bring a water bottle to practice and games.
In conclusion, summer is a fun time for kids, but it's also a time when parents must take extra precautions to keep them safe. By following these essential summer safety tips, you can help ensure that your children have a fun and safe summer.
For great products and next-level online shopping experience, visit our E-commerce website. For more info or details, contact our expert pharmacists to assist you by calling 800500800
---
Related Articles